mission at highlands
---
Our mission work is a direct reflection of who we are at HPC. We support a variety of local, national, and international mission organizations. Below you'll find information about some of our Mission Partners. Click the links and learn more the good work they do.
---
MISSISSIPPI MISSION TEAM UPDATE JANUARY 2019
TWO MORE STEPS FORWARD IN MISSISSIPPI!
The Mississippi Mission team is back from another productive trip to Mendenhall which took place from January 16 to 20; and January 16 to 21. Why two return dates? When we've done these long weekend work trips, team members need to get back so they can go to work on Monday. We haven't been able to attend the Sunday morning service at Mendenhall Bible Church in years, so this time we took two cars!

As some of you know, we've been working on rehabbing a house on highway 49 just outside the town of D'Lo. We had taken down ceilings and blown insulation during our trip in August in order to clear the attic of all the rodent droppings (there was also a squirrel skeleton up there!) and to have open access to upgrade the electrical wiring and HVAC. With those projects completed, it was time to start re-constructing. Since the water heater, washer, and dryer will now be inside the house rather than in a room off the carport, Mike and Jerry worked on running new water lines in the attic and installing a new water heater. The rest of us stapled rolled insulation between the ceiling joists. We also covered the windows so people cannot see into the empty house, as there is evidence of at least two break-ins. On our our next trip, we'll start painting the walls and ceilings—many, many square feet, and we hope to install the kitchen cabinets, sink, and appliances.

We have appreciated so much the support—prayer, material, and financial—of the people of HPC over the years. We couldn't do this without you! Thank you so very much!
​~ The Mississippi Mission Team

---
---
TRICK or TREAT for UNICEF A SUCCESS!
Many thanks to our HPC kids who dressed up in costumes galore and collected very generous donations from the congregation in October during Trick-or-Treat for UNICEF! $146.26 was collected and provided to UNICEF for funding of various outreach programs and services.
---
MISSISSIPPI MISSION TEAM UPDATE AUGUST 2018
SUCCESSFUL DELIVERIES OF MUCH NEEDED SUPPLIES
Sunday School, school, and office supplies were delivered to Mississippi this summer, requiring two trips by John and Margaret Rhine during the months of July and August.
REAL Christian Foundation
staff members assisted with the unloading, and were thrilled with the donations which will be distributed through the fifteen rural ministries they serve to about 1500 young people throughout the area. Thank you John, Margaret, HPC members who donate supplies, friends of Mississippi ministries, and First Presbyterian Church in Downers Grove!
The August trip also focused on continued residential deconstruction, repair and upgrades, resulting in 55 construction bags of waste materials including insulation, ceiling tiles and floor tiles. Duct work will be installed in the attic with hopes of being completed by our next trip in January 2019. Construction will begin during the next phase. Please continue with your prayers for the Mississippi Mission Team as they plan for this important phase of work.
---
OUR MISSION PARTNERS
Mark Hare - Agricultural Technician &
Jenny Bent - Community Health Specialist

HAITI & DOMINICAN REPUBLIC

Mouvman Peyizan Papay (MPP) is a grassroots movement with the goal of helping small farmers improve their living conditions. It began in 1973 in the small community of Papaye and now has members throughout Haiti. Mark & Jenny work with the members, advising them on ways to increase food production. His work helps farmers provide adequate nutrition for their families and generate income by selling excess crops. Learn more about Jenny and Mark's work:

JENNY & MARK
---
Pillars Community Health
Pillars Community Health keeps our communities healthy and strong by providing quality, comprehensive, community-based social services for over 10,000 individuals and families annually in 36 communities who are facing challenges and crisis. Pillars utilizes a community wraparound approach, offering a wide spectrum of fully-integrated services that collectively offer the strongest possible safety net. Through community partnerships and the expertise of our compassionate staff and volunteers, Pillars is able to provide comprehensive services to adult and child survivors domestic and sexual violence. This includes emergency shelter, crisis intervention, medical and legal advocacy, counseling, and more.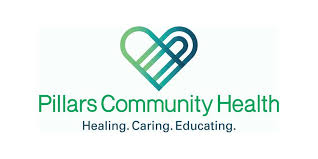 ---
---


(Below) Students from Highlands Middle School
​participate in their annual Spring Service Day with members and friends of Highlands Presbyterian Church.